Ask yourself why Aaron Smith Levin, who pretends to be a critic of Scientology and says he wants law enforcement to act, still refers to the death of Kyle Brennan as a "suicide" despite all the evidence showing it could not have been a suicide.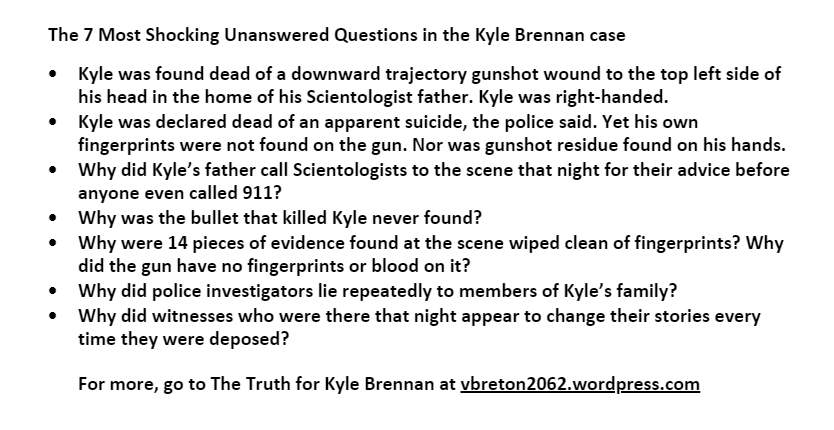 "…This isn't the only controversy Denise Miscavige has been caught up in, either.

In December 2011 A couple years before this later incident about the whole, the whole drug den thing. the Tampa Bay Times reports, a story about a young Scientologists who had committed suicide, there was a lawsuit brought by the victim's mother.

Okay the headline reads 'judge dismisses wrongful death lawsuit against Scientology', the article reads a wrongful death lawsuit filed against the Church of Scientology and three church parishioners after the apparent suicide of a 20 year old Virginia man who died in Clearwater while visiting his Scientologist father has been dismissed by a Tampa federal judge Clearwater police determine that Kyle Brennan of Charlottesville, took his own life on February 16 2007 using a gun he found in his father's downtown apartment. Thomas Brennan later found his son…

A federal lawsuit filed in 2009 by Kyle Brennan's mother Victoria Britton, on behalf of her son, contended that Brendan's death was the result of improper actions by his father and two other church members in a legend.

Thomas Brennan hid his son's anti depression medication Lexapro, after conferring with his church, counselor, Denise [Miscavige] Gentile, who is the sister of Scientology's leader David Miscavige. US District Judge Steven Merryday dismissed the action earlier this month, citing a lack of evidence that Brennan took away his son's medicine. He also ruled that the plaintiff failed to support the claim that Scientologists were complicit in the death.

So this incident of Kyle Brennan reportedly taking his own life in 2007 as a result of having his anti depression medication withheld from him by his father. On the advice of Denise Genteel.

I can tell you that just my experience in Scientology would lead me to conclude that the likelihood of that being the correct version of events that Denise would have advised Kyle's father to withhold the medication that in my opinion has an extremely high likelihood of being true regardless of whether the judge throughout the case due to insufficient evidence or whatever, of course there was insufficient evidence.

It's very hard to prove something like that, but it is worth noting that taking psychiatric medication is one of the, I want to say mortal sins but I understand mortal sin is an actual thing in Christianity, and it's not an actual thing in Scientology so I'm using it just colloquially, having anything to do with providing, or allowing someone to take psychiatric medication is honestly one of the worst things to Scientologists that a Scientologist could have anything to do with.

I mean, I'm not exaggerating, allowing someone to take psych meds or participating in someone taking psych meds would be on par with like sexual crimes against children. I am not exaggerating the fact or idea that Kyle was visiting his father and Denise had an involvement here and advised Kyle's father to withhold the psychiatric medication that rings one 100% true to me.

And I can only imagine how absolutely livid. Furious, anxious, terrified, David Miscavige was when he found out that his sister was even remotely involved in someone taking their own life in a property right smack dab in the middle of the Flag Land base in Clearwater, Florida.

David Miscavige has got to be completely fed up with his sister Denise!

And she's been involved in crimes by the way, there's a whole other category of crime that Denise has been involved in that I honestly just didn't want to take the time to pull up all the background information for for this video. But it has to do with having been involved in a company that was run by a Scientologist and went public and there was some fraud that occurred on the books and the SEC got involved….
________________________________________
Kyle Brennan's mother, Victoria Britton,
has detailed the evidence which proves Kyle's death could not have been a suicide
. Yet Aaron still promotes this extremely unlikely shore story by Mike Rinder, David Miscavige & Mark Rathbun.
You have to ask yourself: WHY?