These days, Mike Rinder is pitching himself as the "former spokesman" for the Church of Scientology to distract the media from Scientology's criminal activities.
I thought it was bad when, for years, Tony Ortega went along with this. But my brain exploded last week when two Los Angeles Times reporters, James Queally & Matthew Ormseth, used Rinder for quotes on thier story about the Danny Masterson case called "Scientology's Secrets Spill Into Open in Danny Masterson Rape Case" – and they identified Rinder as a "former spokesman" for Scientology:
Queally & Ormseth, and their editors Scott Kraft & Shelby Grad, could have checked Mike Rinder's own website to see that he was lying to them about who he was for their article.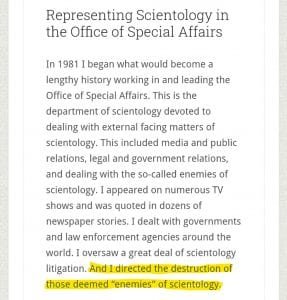 Even worse, Queally & Ormseth, and their editors Scott Kraft & Shelby Grad, could have checked their own newspaper's archives for the LA Times groundbreaking series exposing Scientology in June of 1990 where LA Times reporters Robert Welkos and Joel Sappell identified Mike Rinder as the Commanding Officer of the Office of Special Affairs in charge of the Church's destruction of its critics – including them.
But it gets worse.
Their fellow LATimes reporter Joel Sappell's German Shepard was poisoned, and Joel Sappel had very good reason to believe Scientology did it in retaliation of his series on them. Sappell made a trip to see Marty Rathbun in 2012, who claimed he was 'out' of Scientology, to see if Rathbun would admit to the poisoning. This article in the LA Times Magazine was the result:
"Scientology Won't Set Me Free" was LA Times Reporter Joel Sappell's investigation to find out if Scientology killed his dog, as they've been suspected to have killed many peoples' pets, including judges who prosecuted them – back when Scientology used to be prosecuted – and Ex-Members who spoke out. And of course, Danny Masterson's alleged victims have stated their dog was killed by Scientology.
This is brain exploding stuff for anyone who has been around long enough to have seen this.
All I can conclude is that Scientology's whitewashing of Mike Rinder, and its revision of its criminal history, is working.
And the LA Times now joins Tony Ortega in helping Scientology achieve it.